Earlier today sister-in-law Sally asked me what I would bring as an easy appetizer for a large crowd. I started going through my recipes and found one that a college friend served at a reunion cocktail party, Smoked Gouda and Herb Puffs. OMG!! This is such a great addition to a party. I only made it once but I think I am going to bring it back!! So if you have an upcoming cocktail party, picnic night or just some great friends coming over, promise me you will try this!!!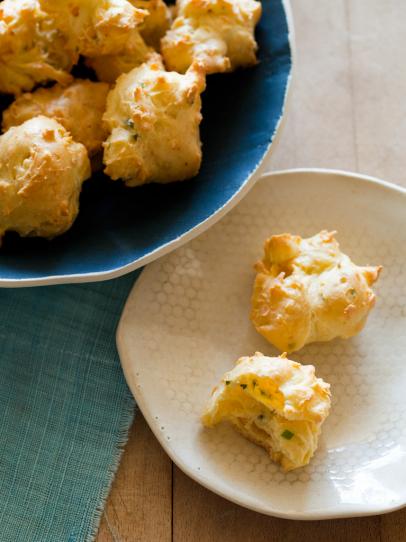 1 cup water
2 1/2 tablespoons unsalted butter
1 teaspoon salt
1 cup all-purpose flour, sifted
3 large eggs
4 ounces smoked Gouda, diced
2 tablespoons chives, thinly sliced
1 tablespoon thyme, minced
1 tablespoon cracked black pepper
1. Preheat oven to 400° F.
2. Place water, butter and salt in a medium saucepan and bring to a boil.
3. Once the mixture has come to a boil, add flour and quickly stir with a wooden spoon until a ball of dough forms, 3 to 5 minutes.
4. Transfer dough into a stand mixer fitted with a paddle attachment and mix over medium speed, allowing steam to escape.
5. Once steam disappears, 2 to 4 minutes, begin adding eggs one by one, scraping down sides of bowl for even mixing.
6. Remove mixture from the stand mixer and gently fold in remaining ingredients.
7. Scoop heaping tablespoons of mixture onto a parchment-lined baking sheet, 1 inch apart, and bake for about 25 minutes, or until golden brown. Serve warm.