A lighting plan can make all the difference in home decor. Most people do not know how important it is. Having the proper mix of overhead lighting, wall lighting and table lighting can change the entire mood of a room. I recently visited the "Light Lab" at Patdo Lighting and was so impressed with all the elements they can add to each room in your home. Partner's Mari Lou Nania and Gary Novasel are truly experts in their field. I was able to sit down with Gary and have him explain exactly what creating a lighting plan can do. Whether it is a new construction or simply just sprucing up one room, they can certainly lend a hand!!!!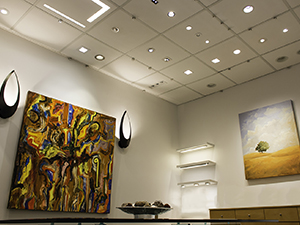 One of the most enjoyable parts of being a Lighting Designer is when I work with a new client who has never used a lighting designer before. Throughout the design and specification process they are constantly amazed at the depth and breadth of the information and factors that we need to get into to create a proper design. There are questions about life style and family activities, artwork and collections (and protection from UV) , flexibility, furnishing style, finishes and placement, texture, wall, floor and ceiling finishes, structure and plenum, insulation, Electrical, Energy and Life Safety Codes, lighting's effect on color, color rendition (CRI), color temperature, energy savings, dimming and control, flexibility, drama, functional and shadow free task lighting, the psychological factors of light, construction details and constraints, craftsmanship, budget, product lead times, fixture size, aperture shape and glare control, maintenance, environmental impact, security, and on, and on, and on…..It is this depth and diversity of required information that I think best defines the process and practice of Lighting Design.
"I had no idea!" Clients say, " I just thought you just went to the Home Center and put a light in the middle of the room or have the Electrician go to the Supply House and install a couple of downlights in the corners". This is what I call, "Lighting as a Commodity".
Lighting

is THE most powerful, yet UNDER-UTILIZED design tools available.

When we treat lighting as a "commodity" we miss out on enormous opportunities to transform our environments as well as the joy of living and working in properly lit environments.
It is when our client's projects are complete, furnishings and artwork are in place and Patdo has aimed and adjusted all of the lighting, that we get to hear the BEST comments, "Wow, I had no idea how beautiful my home could be." I will NEVER build again without a Lighting Designer on board!" "I'm going to tell all my friends not to DARE do a project without Patdo."