I made this recipe for my family visiting this week and all I can say is that it was MAGIC!!!!! Everyone was obsessed!!!! The only thing left to say is that you HAVE TO TRY IT!!!!!!!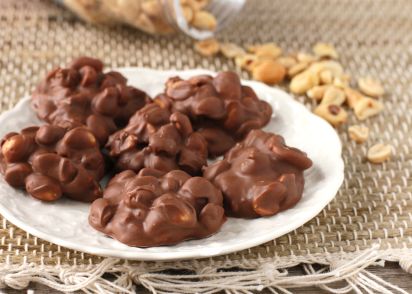 1 – 16 oz jar(s) unsalted peanuts
1 – 16 oz. jar(s) salted peanuts
1 – 12 oz bag(s) semi – chocolate chips
1 – 12 oz bag(s) milk chocolate chips
2 – 10 oz bag(s) peanut butter chips
2 – 1 lb pkg white almond bark or vanilla candy coating (I used white chocolate chips)
Layer all ingredients in a large crockpot (starting with peanuts). Turn the pot on low, cover with lid, and leave sitting for 2 hours. Then, remove lid and stir to combine. Replace lid and leave sitting for another 30 minutes. Stir again and then spoon mixture on to wax paper or non-stick aluminum foil. Allow to harden for at least 1 hour. Enjoy!