I will admit it, I am a fashion jewelry junkie!!! I love bold necklaces and bracelets, earrings and rings...Over the years I have collected so many amazing pieces. And I have to say, I do wear everything I have. A big problem is, and a lot of my fellow jewelry junkies email me, how to store your treasures??!!!! Here are some photos of my favorite ways. I had my closet redone after a lighting fixture caught fire ( I know NIGHTMARE). I had a bunch of hooks installed so I could hang my necklaces. My rings I keep in a decorative box on a shelf and my bracelets, I like to keep on a bar (like the one below) stacked next to one another. My mom bought me a lucite cube like the one in the last photo one year for Christmas. It holds a ton of earrings, all sizes and styles from the smallest studs to the largest chandeliers.
This is how I love to store my bracelets.
I am going to copy this idea. I really love it!!!
My friend Cricket stores her jewelry in a chest. I love this too!! I'd love to get my hands on this collection!!!
Here is Cricket's Closet, notice the necklaces on hooks and PS I also copied her and hand my handbags on drapery tie backs!!!! Brilliant Ideas!!!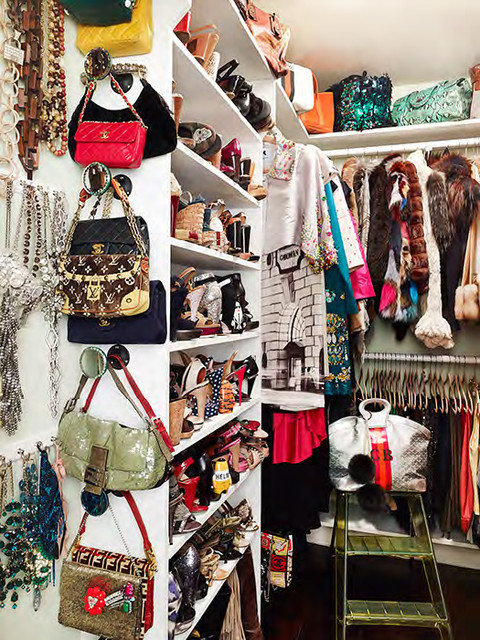 This jewelry chest is simply gorgeous!!!
OMG!! What an amazing collection!!!
Drawer dividers are another great way to store bracelets!!!! Wow awesome is this collection?
Another great idea..Perfect way to use all those silver trays and small dishes you have lying around!!!!
I also love displaying some of my larger necklaces on decorative objects..LOVE this necklace and LOVE this mirror!!!!
This has to be the best earring holder EVER. My mom got mine at the antique center in Stamford but I am sure you can google it and find one or something similar!!!!