I saw a blogger make these the other day and I knew that they would be the perfect thing to share this week. We have been focusing so much on easy family dinners for the past couple of months that it is the perfect time for something sweet!!! Bon Appetit!!!!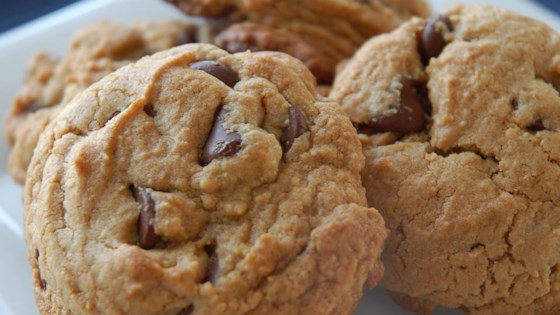 adapted from a pinch of lovely
2 cups lightly packed

coconut sugar

2

eggs

1/2 teaspoon

vanilla extract

1/4 teaspoon

salt

1 16-ounce jar creamy

peanut butter

(1 1/4 cups)
1 cup

chocolate chips
Preheat the oven to 350°F. Line a large rimmed baking sheet with parchment paper.
In a medium bowl, combine the coconut sugar and eggs and whisk until smooth. Whisk in the vanilla and salt until blended.
Add the peanut butter and whisk until the dough is smooth and the peanut butter has completely blended into the batter (you might need to switch to a big spoon toward the end, which you'll need for mixing in the chocolate chips anyway). Add the chocolate chips and stir until the chocolate chips are evenly incorporated.
For cookies that stay perfectly mounded, chill the dough for 15 minutes before proceeding. Use a 1-tablespoon cookie dough scoop or two spoons to scoop heaping tablespoons of dough onto the prepared baking sheets, leaving 1 to 2 inches of space around each one. Chill any remaining dough while you bake the first batch.
Bake until the cookies are golden at the edges but still just a little underdone in the center, 11 to 13 minutes. Let the cookies rest on the hot baking sheet for 2 minutes before transferring them with a metal spatula to a cooling rack to cool completely. Repeat with the remaining dough.
These cookies keep well at room temperature for about 4 days, and freeze well for up to 3 months.