Ina Garten, the Barefoot Contessa, recently shared her favorite cook books on Instagram. I was fascinated. In my book, Ina is the cream of the crop. All of her recipes are wonderful so I am really excited to see where she gets her inspiration!!!!
image Barefoot Contessa
A Platter of Figs and Other Recipes by David Tanis
Image Amazon
For six months a year, David Tanis is the head chef at Chez Panisse, the Berkeley, California, restaurant where he has worked alongside Alice Waters since the 1980s in creating a revolution in sustainable American cuisine. The other six months, Tanis lives in Paris in a seventeenth-century apartment, where he hosts intimate dinners for friends and paying guests, and prepares the food in a small kitchen equipped with nothing more than an old stove, a little counter space, and a handful of wellused pots and pans.

This is the book for anyone who wants to gather and feed friends around a table and nurture their conversation. It's not about showing off with complicated techniques and obscure ingredients. Worlds away from the showy Food Network personalities, Tanis believes that the most satisfying meals—for both the cook and the guest—are invariably the simplest.

Home cooks can easily re-create any of his 24 seasonal, market-driven menus, from spring's Supper of the Lamb (Warm Asparagus Vinaigrette; Shoulder of Spring Lamb with Flageolet Beans and Olive Relish; Rum Baba with Cardamom) to winter's North African Comfort Food (Carrot and Coriander Salad; Chicken Tagine with Pumpkin and Chickpeas). Best of all, Tanis is an engaging guide with a genuine gift for words, whose soulful approach to food will make any kitchen, big or small, a warm and compelling place to spend time.
The Perfect Scoop by David Lebovitz
Image Amazon
Ripe seasonal fruits. Fragrant vanilla, toasted nuts, and spices. Heavy cream and bright liqueurs. Chocolate, chocolate, and more chocolate. Every luscious flavor imaginable is grist for the chill in The Perfect Scoop, pastry chef David Lebovitz's gorgeous guide to the pleasures of homemade ice creams, sorbets, granitas, and more.

With an emphasis on intense and sophisticated flavors and a bountiful helping of the author's expert techniques, this collection of frozen treats ranges from classic (Chocolate Sorbet) to comforting (Tin Roof Ice Cream), contemporary (Mojito Granita) to cutting edge (Pear-Pecorino Ice Cream), and features an arsenal of sauces, toppings, mix-ins, and accompaniments (such as Lemon Caramel Sauce, Peanut Brittle, and Profiteroles) capable of turning simple ice cream into perfect scoops of pure delight.
The New York Times Cook Book by Craig Claiborne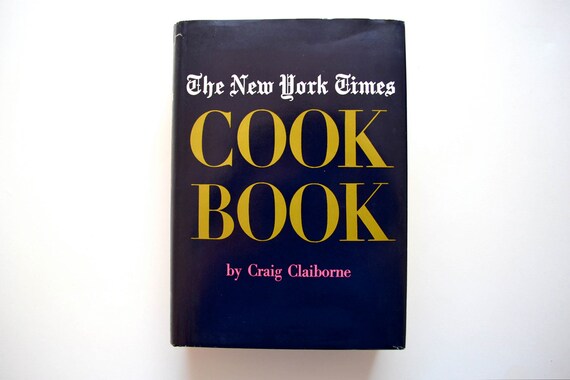 Image Amazon
(the book is out of print but preowned copies are available on Amazon)
Since it was first published in 1961, The New York Times Cook Book, a standard work for gourmet home cooks, has sold nearly three million copies in all editions and continues to sell strongly each year. All the nearly fifteen hundred recipes in the book have been reviewed, revised, and updated, and approximately 40 percent have been replaced.
Emphasizing the timeless nature of this collection, Craig Claiborne has included new recipes using fresh herbs and food processor techniques. He has also added more Chinese, Indian, and foreign recipes and more recipes for pasta, rice, and grains. Additional fish recipes, new salads and bread recipes, and an exceptional chili dish enhance this edition, which contains traditional American recipes and selected recipes from twenty countries. All the recipes are clearly presented and suitable for many different occasions, ranging from a wide variety of family meals to the most formal dinner party. The author also covers sauces and salad dressings, relishes, and preserves. And there are countless old favorites and those wonderful desserts.
Complete with essential cross-referencing, a table of equivalents and conversions, and an index, the revised edition of The New York Times Cook Book is a superb new cookbook to give, to own, and to use for years to come.
Bistro Cooking by Patricia Wells
image amazon
Bistro is warm. Bistro is family. Bistro is simple, hearty, generous cuisine-robust soups and country omelets, wine-scented stews and bubbling gratins, and desserts from a grandmother's kitchen. Researched and written by Patricia Wells, author of The Food Lover's Guide to Paris and The Food Lover's Guide to France, together with over 220,000 copies in print, here is a celebration of the no-nonsense, inexpensive, soul-satisfying cuisine of the neighborhood restaurants of France. BISTRO COOKING contains over 200 scrumptious bistro recipes made lighter and quicker for the way we cook today. Warm Poached Sausage with Potato Salad. Benoit's Mussel Soup. Guy Savoy's Fall Leg of Lamb. Beef Stew with Wild Mushrooms and Orange, Chicken Basquaise, Pasta with Lemon, Ham, and Black Olives, L'Ami Louis' Potato Cake, Provencal Roast Tomatoes, Pears in Red Wine, and Golden Cream and Apple Tart. Throughout, lively notes and sidebars capture the world of bistro owners in the kitchen, les grands chefs, and more. Selection of the Book-of-the-Month Club. Winner of the 1989 IACP Seagram Food and Beverage Award. Over 166,000 copies in print.
Union Square Cafe Cookbook by Danny Meyer and Michael Romano
image Amazon
Union Square Cafe serves some of the most imaginative, interesting, and tasty food in America. The restaurant and its owners, Danny Meyer and chef Michael Romano, have been lauded for their outstanding food and superb service by Gourmet, Food & Wine, the New York Times, and the James Beard Foundation. Now its devoted fans from down the block and across the globe can savor the restaurant's marvelous dishes, trademark hospitality, and warm decor at home.
Offered are recipes for 160 of Union Square Cafe's classic dishes, from appetizers, soups, and sandwiches to main courses, vegetables, and desserts. Hot Garlic Potato Chips, Porcini Gnocchi with Prosciutto and Parmigiano Cream, Grilled Marinated Fillet Mignon of Tuna, Herb-Roasted Chicken, Eggplant Mashed Potatoes, and Baked Banana Tart with Caramel and Macadamia Nuts are some of the all-time favorites included in this long-awaited collection.
Union Square's recipes are easily mastered by home cooks. They call for ingredients that are widely available (mail-order sources are listed for those few that are not), employ familiar techniques, and take a reasonable amount of time to complete. Amateurs and pros alike will find the dishes here as accessible as they are irresistible.
Beyond just providing recipes, The Union Square Cafe Cookbook inspires confidence in home cooks by sharing Michael Romano's tips for success. Readers learn that soaking baby onions in warm water makes them easier to peel (in the recipe for Sweet Peas with Escarole, Onions, and Mint); that the Corn and Tomatillo Salsa served with Polenta-Crusted Sea Bass also goes well with barbecued chicken or pork; that leftover Sautéed Spinach with Garlic makes a great sandwich filling; and that yesterday's sourdough bread should be kept for such soups and salads as Ribollita and Sourdough Panzanella. Danny Meyer's wine suggestions, inspired by the restaurant's remarkable cellar, accompany almost every recipe.
The Union Square Cafe Cookbook does the rare job of capturing the bustling energy and ebullient enthusiasm of the restaurant itself and the spirited personalities—those of Danny and Michael—that drive it. Folks will still go out of their way to eat at Union Square Cafe, but this cookbook—filled with the restaurant's vitality, warm artwork, and tempting recipes—ensures that its pleasures are as close as your bookshelf.
Cold Weather Cooking by Sarah Leigh Chase
Image Amazon
Whether your winter blows with snow and rain or is just a sunbelt state of mind, a trove of delicious, soul-warming fare awaits in COLD WEATHER COOKING, from the author of The Nantucket Open-House Cookbook with over 214,000 copies in print.
Guided by a sense that winter is the season for seasonings-from ginger, garlic, and rosemary in Mixed Winter Squash Provencal to the cilantro and walnut crust on a dazzling Roast Rack of Lamb-this gifted cook and author provides dishes that are even gutsier than her summertime favorites. She pays special attention to the late harvest, helps cooks make the most of fall fruits and vegetables, offers chapters on winter grilling and cooking over the hearth.
More than 300 recipes range from bracing drinks for the first sign of autumn to glorious spring dishes for an Easter celebration. Warm Tomato Pie. Wild Rice, Mushroom, and Oyster Bisque. Pasta with Gorgonzola and Spinach. Plus Scallops in Sweet and Hot Lime Sauce, Deviled Beef Ribs, Broccoli with Toasted Hazelnuts and Pancetta, Sweet Potato Pancakes, Pumpkin Bread Pudding, Chestnut Mousse Cake, and Christmas Truffle Tart. Selection of the Book-of-the-Month Club's HomeStyle Books. 112,000 copies in print.
All titles are available on
amazon.com