I received this recipe from friend, and founder of the amazing The Right Pillow. This Winter bean and barley soup according to Chrissy, "This soup is a vegetarian meal, with most ingredients found right in your pantry. It is a one pot dish that can be made early in the day and reheated for lunch or dinner. It is great for cold nights by the fireside or after a day of sledding. " Enjoy and keep warm!!!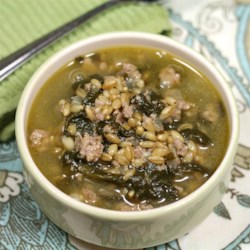 Winter Bean and Barley Soup
3 Tablespoons Grapeseed or Olive Oil
1 Large onion chopped
3 cloves of garlic chopped
6 cups low sodium vegetable broth
1 28 oz can of Roma tomatoes
1 cup pearl barley rinsed
2 cans 15oz Butter Beans (lima) rinsed
1 tsp fresh dried oregano
1 cup grated parmesan cheese
1 loaf crusty baguette
S&P to taste
Heat the oil in a large stockpot over medium-high heat. Saute onion and garlic until tender, 8-10 minutes. Add the broth and tomatoes with their juices and bring to a boil. With the back of a wooden spoon, crush the tomatoes and remove any ends or skins of tomatoes. Add the barley, reduce heat and simmer until barley is tender, about 20 minutes. necessary for desired soup consistency
Serve: with parmesan and a side of crusty bread for a heartier dish.