Recently all talk has been about Thanksgiving, who's hosting, what's being served and if anyone has any new ideas to share. I came across this vintage recipe, that is a perfect appetizer for your holiday feast; easy, light and crunchy, a real crowd pleaser. I am going to have my daughters do a dry run this weekend,
to see if they make the cut. I will keep you posted!!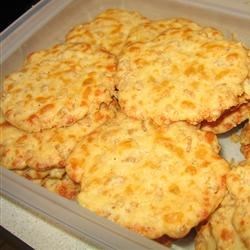 adapted from allrecipes.com
1 1/2 teaspoons red pepper
1 pound cheddar cheese, grated, room temperature
1 cup unsalted butter or margarine
Pre-heat over to 350 degrees
Combine flour, salt, red pepper, in a large bowl, add cheddar cheese. Toss until cheese is coated. Pour in melted butter, stir until mixture is moist and crumbly. Add rice cereal and knead by hand until dough is well blended.
Roll dough into small 1/2 inch balls, arrange on a baking sheet. Flatten each ball with a fork.
Bake until light and crispy, about 30 minutes